Board diversity catalyses robust governance and responsible stewardship, and is a valuable driver for growth.
CBD believes that board diversity catalyses robust governance and responsible stewardship, and is a valuable driver for growth.
The Covid-19 pandemic has accelerated fundamental shifts in business models. A surge of new technologies and digitalisation has added to changes in consumer behaviour as well as in supply chains. These shifts have fuelled a focus on how board directors, as a group, chart corporate strategy and create and preserve enterprise value.
Having diversity in the board brings together the diversity of judgement to chart the best course through uncertainty, challenge, opportunities and risks – applicable to both for-profit and non-profit organisations.
The mix of knowledge, skills, experience, gender, age and other relevant features is harnessed to devise strategy and manage its execution. Against this backdrop we believe that including women on boards, in particular, adds a powerful lead-in to the other forms of diversity that bring value to the board's role in the organisations.
Read more about why diverse boards are crucial for organisations here.
Our Background and Mission
CBD was established by the Ministry of Social and Family Development to promote a sustained increase in the number of women directors of listed companies, statutory boards and non-profit organisations in Singapore as a stepping stone to broader diversity. President Halimah Yacob is the patron, and members are eminent leaders with strong networks across boards of the private, public and people sectors.
CBD builds on the work of the Diversity Action Committee (DAC) from 2014 to 2018 and a study by the Diversity Taskforce regarding Women on Boards (DTF) in 2012. Find out more about our journey here.
We support organisations in unlocking the power of board diversity.
Key things our Council does:
Engage key board decision makers directly to advance board diversity.
Activate board-ready women comprising C-Suite executives and professionals. We welcome you to approach CBD for guidance and recommendations of board-ready women.
Partner stakeholders in the ecosystem, including investors, to influence and accelerate change.
Take a broad view across public, people and private sectors, promoting consistent practices and disclosures on board diversity.
Progress of Women's Representation on Boards
Working toward parity in participation of men and women on boards in the long term, CBD introduced aspirational targets for WOB, encouraging boards on their journey to leverage board diversity for long-term business value.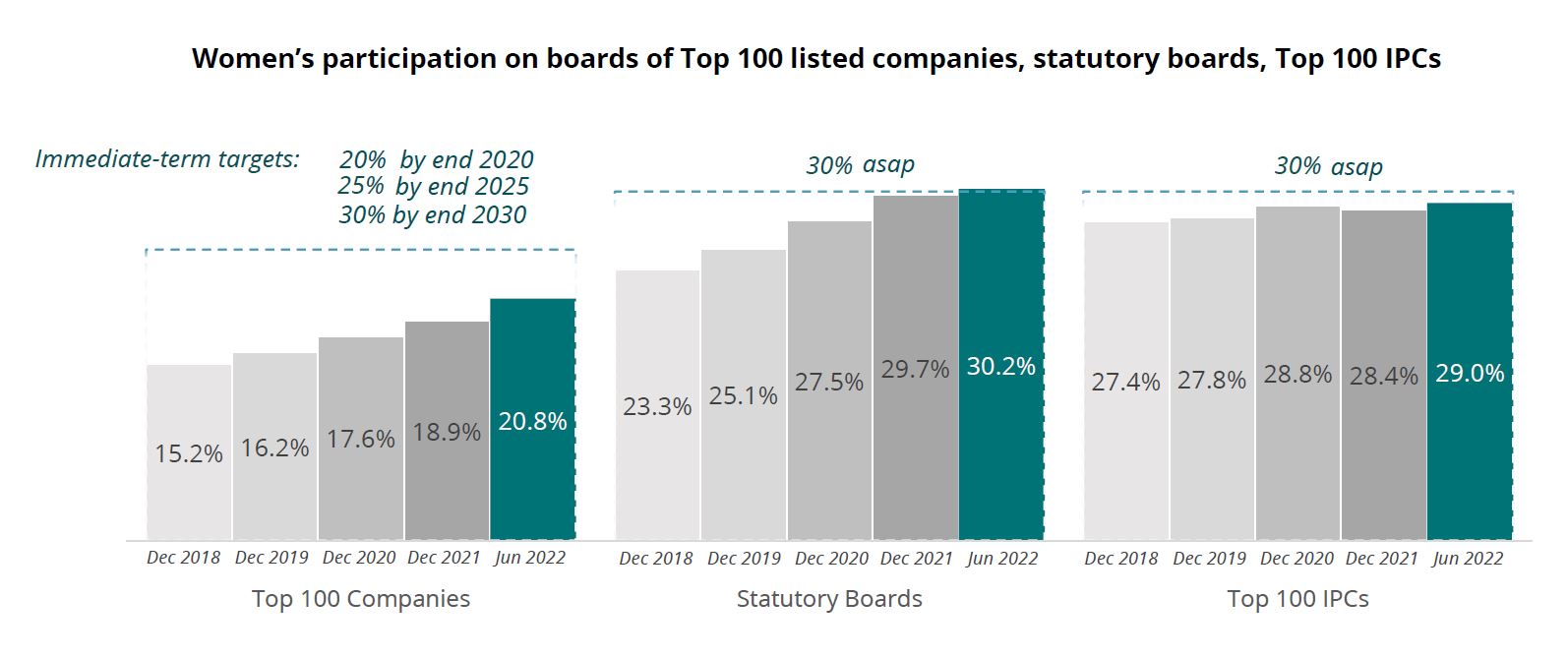 Please note, slightly different targets have been set for listed companies vs. statutory boards and IPCs, based on the varied starting points in board gender diversity for the groups, and after an extensive study on feasibility.
We have worked with organisations who also believe in the value of diversity in boards. We would like to thank the following partners for their ongoing support, and without whom, our impact would not be as significant: